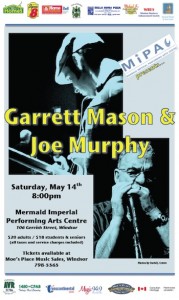 Joe Murphy and Garrett Mason dropped into the store today, prior to playing a show at the Mermaid Theatre tonight. They were looking for good coffee and I suggested T.A.N. Coffee.
They returned after a while and gave a favourable report on the café.  Then Joe said, "You're Mike Aubé, right?", and proceeded to make some very nice comments about "Living in the Key of G".  (That song seems to be the theme of my week.)
And, although I try not to stress out too much about other peoples' opinion, when someone of Joe's reputation says they like your tune, well that's pretty darn cool.  I'm not gonna lie, it made my day a fair bit brighter.