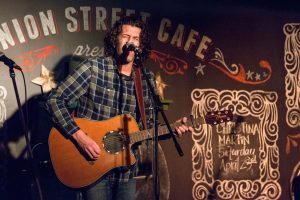 (photo by James Skinner)
When I was a child, I had a wide variety of interests. It didn't seem weird at all to be simultaneously athletic, outdoorsy, artsy and scientific. I had it all. I had no reason to think one was better than the other.
Then the question "What are you going to DO when you grow up?" was posed. And as time passed, that question became more and more pressing.
I knew I was a good athlete but I probably wasn't going to "turn pro". I knew I was a decent singer and guitar player, but I probably wasn't going to "make it big". I knew I could paint pretty well, but I wasn't going to "be an artist".
So that left science. It was a "respectable" profession. I started in computer science, but couldn't see myself being in front of a computer all day, so I thought I would meld my interest in athletics with science and I went on to complete a Masters degree in exercise science (yup, I'm over-educated).
I went on to teach at a highly respected university, but I was miserable. I was writing and playing music on the side but I dreaded going to work every single day, to the point where I would often drive past my office and keep driving until I had the courage to face the day.
Finally, I left. It's hard to believe, but it has been almost 15 years since I left that life behind.
I still haven't "made it big". In fact, there have only been a few short stints where I have been able to support myself fully with music. There have always been other sources of income.
But there is absolutely no doubt in my mind, heart and soul that this is my profession. It is what I profess to do. It is my soul's contribution to the world, for better or worse. It is what I do now that I have grown up.